We are a Business Unit of Vedanta Limited. Vedanta Limited was created post the Scheme of Amalgamation and Arrangement (Group Simplification Scheme) of Sterlite Industries (India) Limited, The Madras Aluminium Company Limited [MALCO], Sterlite Energy Limited [SEL] and Vedanta Aluminium Limited [VAL] with Sesa Goa Limited [SGL].
We at 'Sterlite Copper', represent the Copper business of Vedanta Limited. The Copper business of Vedanta Limited (Sterlite Copper) is well-positioned in the key core sector industries, has a strong track record of performance.
Sterlite Copper operates a 400,000 Metric Tonnes Per Annum (MTPA) Copper Smelter with associates facilities such as Refinery and Copper Rod Plant, Sulphuric Acid plant of more 12,00,000 MTPA and a Phosphoric Acid of 220,000 MTPA at Thoothukudi, Tamilnadu. Sterlite Copper also operates a 160 MW coal-based power plant in Thoothkudi, Tamilnadu.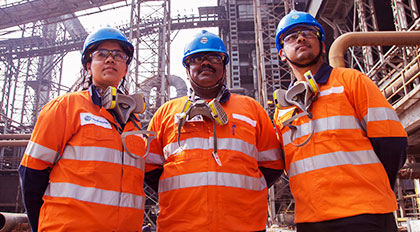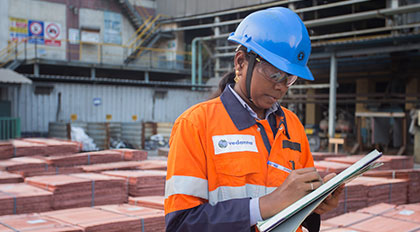 Prime Focus Areas of Sterlite Copper
Strong Governance and Compliance.
Environment, Safety and Health.
Talent Pool and Technology.
CSR and Community Relations.
Responsible Corporate Citizen.
Sustainable and Continued Operations with lowest energy, water and natural resources consumption.
Recycle, Reuse and sustainable disposal of solid wastes.
Capacity Summary of All Operations
Installed Capacity
400,000 tpa of Copper Anode
400,000 tpa of Copper Cathode
250,000 tpa copper rod

Mission of Sterlite Copper
Ensure Zero Tolerance towards the violation of safety, environment and governance norms.
Be one of the largest single location copper producer in the world at lowest cost.
Ensure all resources for long term sustenance.
Continuously upgrade technology to ensure high quality products and services to sustain market leadership and surpass customer expectations.
Touch and transform lives of the community.
Create a workplace that respects and values all employees and promotes innovation.
Develop downstream industries in line with Tamil Nadu Vision 2023.