Vedanta Nico
Nico – Nickel Business of Vedanta Limited
Nico, the cornerstone of Vedanta Limited's strategic vision. Vedanta has solidified its position as India's premier natural resources company by becoming the sole producer of Nickel within the nation. This milestone was achieved through the acquisition of Nicomet Industries Ltd., a distinguished producer of Nickel and Cobalt based in Goa. Currently integrated into Vedanta's Malco Energy Limited Business Unit, Nicomet's expertise and capabilities have seamlessly merged into the Vedanta family.
At the forefront of the market, Vedanta proudly produces a 7.5 KTPA (Kilo Tonnes Per Annum) of Nickel Metal. However, our ambitions are even more remarkable as we set our sights on meeting an astounding 50% of India's total Nickel demand in the forthcoming years. With a resolute growth plan in place, we are poised to lead the charge in powering the nation's Nickel requirements.
The integration of Nickel into Vedanta's operations aligns seamlessly with our ESG mission. This monumental step serves as a testament to our unwavering dedication to fostering a sustainable future. Nickel, a strategic mineral, holds pivotal importance in the production of stainless steel, electroplates, batteries for electric vehicles (EVs), etc. In a similar vein, Cobalt emerges as a crucial component in lithium-ion batteries for EVs and Energy Storage Systems. These elements also find application in the creation of superalloys for steelmaking.
Our products emerge as the vanguards of the future, ushering in the era of renewable and cleaner energy solutions. Playing a pivotal role in driving the transition towards sustainable energy sources. Vedanta's venturing into Nickel underscores our commitment to supporting India's ambitious carbon neutrality goals and sets the stage for a future where innovative materials power our world sustainably.
Evolution of Nickel in India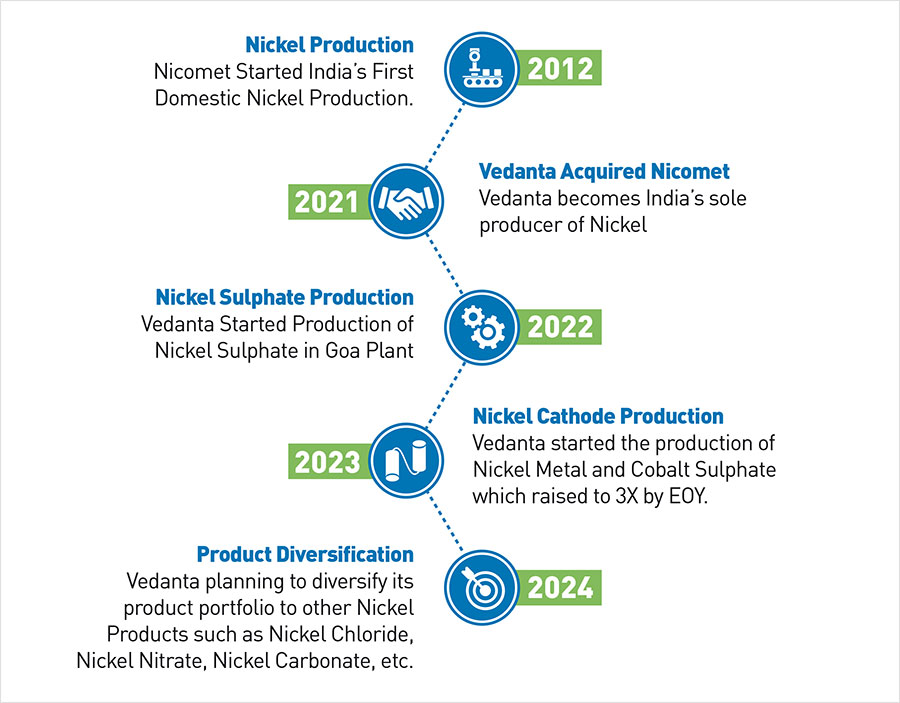 Product Portfolio
Contact Info
Malco Energy Limited Plot Nos. L-15, L-19, L-20 & M-11,
Landfill Site, Cuncolim Industrial Estate,
Cuncolim, South Goa – 403703, India.
For any queries contact:
Email: Nico.Sales@vedanta.co.in
Phone: +91 8451902682 +91 8326713750