MoU sign –off for the First Floor construction in the existing Sterlite Paediatric Block : Sterlite Copper is implementing many Community development initiatives in Tuticorin .Education, Health, Livelihood, Agriculture,Women Empowerment, Sports and Community Infrastructure Development are the key focus areas under which significant contribution has been made. As part of our Corporate Social Responsibility initiatives, in the sphere of Health, Sterlite Copper has established the Sterlite Paediatric block and supporting for annual maintenance in the Sterlite paediatric
block.
Today, a ceremony has been organized at Office of Dean, Government Hospital, Tuticorin., for signing of MoU with District Government Hospital for construction of additional floor (First floor) in the existing paediatric block to the cost of Rs.67 lakhs as per the request by District Patient Welfare Association, Tuticorin., headed by District Collector. MoU was signed and exchanged between Dr.J.Edwin Joe, Dean of Government Medical College & Hospital and Mr.Pankaj Kumar – Chief Operating Officer.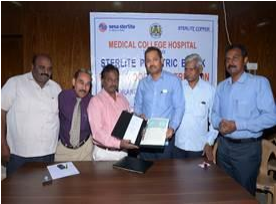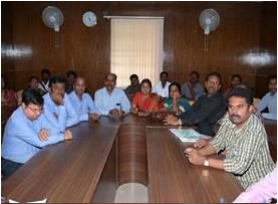 Senior Medical officers, Staff of Government Hospital, Mr.D.Dhanavel, AVP – Commercial and Projects, R.Selvasankar, GM- Projects, Mr.M.Kumaravendhan, GM-HSE, Mr.Ajay Jajoo- GM-Finance, Dr.R.Kailasam- CMO, NGO and representatives from on-going projects.